THE FUTURE OF
RIDE & HANDLING IS HERE
Introducing RZR DYNAMIX™ Active Suspension by Polaris, the world's first and only intelligent suspension system designed for the off-road. DYNAMIX is smart enough to monitor driver and vehicle inputs hundreds of times per second, capable enough to continuously adjust each individual shock on-the-fly, and so dynamic that instead of having to choose between a plush ride or performance, you now get the best of both every time you ride.
The mode switch gives you cockpit control over the suspension's baseline settings. Set your riding style with the mode switch and DYNAMIX Active Suspension adjusts from there. The mode switch is located right next to the steering wheel and instantly retunes to your selections on-the-fly.
COMFORT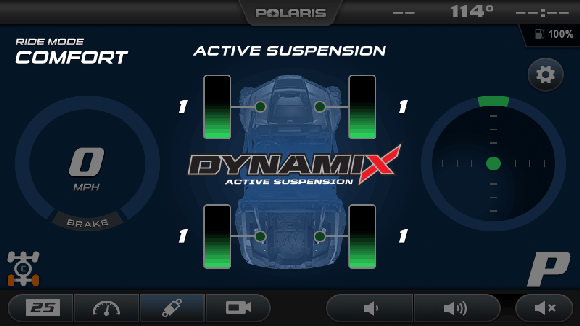 More plush than any other ride in the industry. Designed for cruising around and eliminating the small chatter.
SPORT
The ultimate blend of performance and comfort for high-speed handling. Compared to Comfort, everything is ramped up for more responsiveness and performance.
FIRM
 Cranks all four shocks to max stiffness for the firmest suspension in the industry. Designed for extreme encounters and nasty terrain.
TRIM & COLOR OPTIONS
RZR XP Turbos offer the next level in Xtreme Perfomance, featuring the most powerful RZR engine available from the factory for unequaled power, torque, durability, and off-road excitement.
Starting US MSRP $19,999
Xtreme Performance at an Unbeatable Price, combining 168 HP with Walker Evans Needle Shocks.
Select Color
Starting US MSRP $22,999
Next-level FOX® Internal Bypass Shocks to go with 168 HP of pure power for the ultimate off-road adventure.
Select Color
Starting US MSRP $25,999
Revolutionary, on-the-fly, RZR DYNAMIX™ Active Suspension and 168 HP for the most extreme off-road experience.
Select Color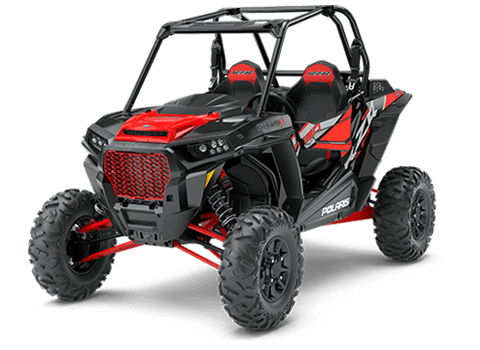 RZR XP® TURBO EPS DYNAMIX EDITION – BLACK PEARL
STARTING US MSRP $25,999
Legendary RZR XP Turbo Features Plus:
NEW! RZR DYNAMIX™ Active Suspension
NEW! RIDE COMMAND™ 7″ Glove-Touch Display
NEW! DYNAMIX Visualizer
NEW! Rear Facing Camera
NEW! 900 Watt Charger
RZR XP® TURBO EPS DYNAMIX EDITION
Power
Engine Type
ProStar Turbo H.O.; 4-Stroke DOHC Twin Cylinder Turbocharged
Cylinders Displacement
925cc
Transmission / Final Drive
Automatic PVT P/R/N/L/H
Suspension
Front Shocks
FOX® 2.5 PODIUM Live Valve with Bottom-Out Control
Front Suspension
Dual A-Arm with Stabilizer Bar and 16 in (40.6 cm) Travel
Rear Shocks
FOX® 2.5 PODIUM Live Valve with Bottom-Out Control
Rear Suspension
Trailing Arm with Stabilizer Bar and 18 in (45.7 cm) Travel
Agility
Front/Rear Brakes
4-Wheel Hydraulic Disc with Triple-Bore Front and Dual-Bore Rear Calipers
Drive System Type
High Performance True On-Demand AWD/2WD
2018 RZR XP TURBO EPS DYNAMIX EDITION
Front Shocks  FOX® 2.5 PODIUM Live Valve with Bottom-Out Control
Front Suspension  Dual A-Arm with Stabilizer Bar and 16 in (40.6 cm) Travel
Rear Shocks  FOX® 2.5 PODIUM Live Valve with Bottom-Out Control
Rear Suspension  Trailing Arm with Stabilizer Bar and 18 in (45.7 cm) Travel