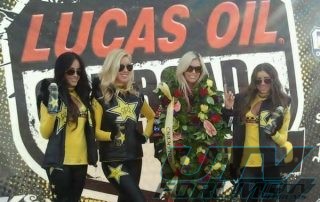 In winning the 2011 LOORRS SR1 championship, Weller becomes the first woman in history to win a year-ending title. Somewhere in a hidden attic hangs a portrait of a slowing, decrepit, off-road racer, aging indiscriminately.
The thinly veiled Oscar Wilde reference is an attempt to explain the paradox that is Corry Weller. Going into Round 15, the last race of the Lucas Oil Off Road Race Series at Firebird Raceway in Arizona, Weller had amassed enough points and needed only to start the race in order to ink her name into the LOORRS history books. After a dramatic restart that saw Weller explode into the lead, then launch herself from the infamous giant step-up jump, damaging her right front a-arm on a cement K-rail during the errant flight.
Weller then employed her uber-driving skill to save her SR1 and finish the race. With that exhilarating season-ending show of skill and determination, Weller became the first woman racer to ever win a LOORRS Championship – arguably the most competitive short-course racing series in the country. Yet, instead of the burly, iron-man profile that generally claims the top tier of the podium, Weller in comparison is like soothing eye drops to dusty, burnt-red retinas.
She possesses the obvious heart and talent of a champion and wraps them in cover-girl model looks. It's almost unfair. Congratulations! How much does winning this championship and making LOORRS history mean to you and your racing future? "Thank you! Winning the championship is fantastic, mostly because it's the best way I can repay our team for all of the hard work they put into this season. It's something they can be proud of, and it's a great way to affirm just how good they are at what they do.
It's also the best way a racer can repay their sponsors, like K&N, for the support they have been giving all year. I'm so excited that we were able to do this! Being the first female is pretty cool, too. Hopefully it encourages other girls and women who may be thinking about getting into this sport, but who might be a little hesitant to try.
If they see other girls do well, it might make them more confident that they can do the same." Corry Weller tearing around a corner and showing that girls can tear it up too! You mention setting out this year to be more consistent and win more, but what actual steps were taken towards that goal? "Before this season started, we knew that we had to put 100% focus into just my SR1. Last year we sponsored another UTV as well, and it spread us pretty thin when it came time to prepare for every race. My car would be pushed aside until the last minute and that allowed for some things to be overlooked. This year we focused on my car alone and we were very thorough with our race preparations before and during each round. We also went into the year with just the championship in mind, racing every race as a points race. I didn't take unnecessary chances; I always knew who I had to beat, and who I could let go in order to stay ahead in points. There are times when you aren't in first place, and you want to be, then you realize that the guy you needed to beat that day is broken, so you can relax a little and be happy with a second place finish, knowing that it puts you that much closer to your ultimate goal of championship." Corry Weller only needed to start the last round of LOORRS at Firebird Raceway to lock up the title. Weller is the one wrapped in the laurels.
Your husband, Jason, who's also your crew chief, won the Arizona Lucas Oil Regional Series championship. Winning two championships on the same Rhino has to be a first too. Did that present additional challenges for you? "It might be a first, actually! Racing one vehicle presents some challenges for sure. Sometimes we didn't have much prep time between his races and mine, and that caused some hustle, but it wasn't too bad.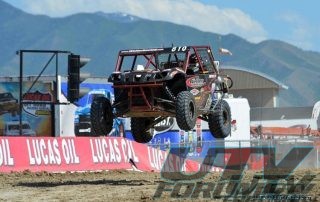 There are definitely some benefits of having my crew chief racing the same vehicle as well. For instance, I would complain about the clutch feeling like it's going out, and he'd kind of brush it off until he drove it. Then he'd say 'hey, your clutch is almost gone' and it would get fixed. It helps with suspension tuning too. It's hard sometimes to relay exactly how something feels until he can drive it. I think it worked out really well, overall. We will actually be racing against each other in the local series in 2012 – that should be interesting!" Corry Weller getting airborne during a race. Alright, I'd be remiss if I didn't address the elephant on the track. Champions don't often overshadow the trophy-girl presenters. How much would you say that comes into play, meaning do you feel that sometimes other racers haven't taken you as seriously as they should?
Also, has that in anyway driven you to become an even better racer? "I'm blushing now, but thank you! You know, it's a bunch of guys out on the track and I honestly don't think they really care what I look like, or even that I'm a girl. Once the helmets are on, it's just about who is beating whom. I don't think my appearance really matters much to anyone, except maybe people on the outside looking in who think it's an interesting contrast. Maybe if I was brand new and no one knew who I was, appearances might have a chance to be more deceiving, but I think in this series it's probably overlooked because they know me. That doesn't mean that I don't try to look nice…I do! When you are surrounded by dirt and grease and all things manly, it's good to have some lip gloss handy to help affirm your girlishness. I'd say the biggest driving factor for me to become a better racer is what drives all of us – we all want to be our best!" Will you be defending your title next year or are you looking to make the move into Trophy Lite trucks? "I have had a good run in the UTV classes, but I'm looking to move up now. While I will most likely still race the SR1 in the local races for LOORRS, we are working on a truck program for 2012 but I don't want to spill the beans just yet on what it is. Let's just say we have been looking at the Pro Lite, Pro 2 and Pro 4 classes pretty closely!"